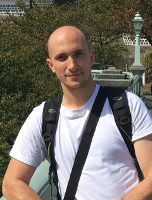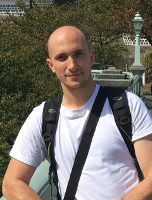 Dr. Jiří Mikšátko
Post-doc, Department of Low-dimensional Systems
Email:
jiri.miksatko@jh-inst.cas.cz
Expertise
Synthetic chemistry
Background
2018 - present Nanocarbon group, post-doctoral fellow, Covalent surface functionalizations (superv. Dr. Martin Kalbac)
2017 Short-term internship at Kanazawa University, Japan (superv. Prof. Tomoki Ogoshi)
2012 - 2018 UCT Prague, Ph.D. student, Chemistry of thiacalixarenes (superv. Prof. Pavel Lhotak)
2006 - 2012 UCT Prague, undergraduate studies in medicinal chemistry (superv. Dr. Roman Holakovsky)
Selected publications
Mikšátko, J.; Eigner, V.; Lhoták, P.: Unexpected cleavage of thiacalix[4]arene sulfoxides, RSC Adv. 2017, 7, 53407-53414.
Mikšátko, J.; Eigner, V.; Kohout, M.; Lhoták, P.: Regio-/stereoselective formation of monosulfoxides from thiacalix[4]arenes in all possible conformations, Tetrahedron Lett. 2017, 58, 1687-1691.
Řezanková, M.; Budka, J.; Mikšátko, J.; Eigner, V.; Císařová, I.; Cuřínová, P.; Lhoták, P.: Anion receptors based on intramolecularly bridged calix[4]arenes bearing ureido functions, Tetrahedron 2017, 73, 742–749.
Mikšátko, J.; Eigner, V.; Dvořáková, H.; Lhoták, P.: Selective oxidation of thiacalix[4]arene (cone) to all corresponding sulfoxides, Tetrahedron Lett. 2016, 57, 3781–3784.
Kundrát, O.; Slavík, P.; Mikšátko, J.: Introducing an amine group to calix[5]arene: Comparison of several methods, Supramol. Chem. 2016, 28, 450-454.
Mačková, M.; Mikšátko, J.; Budka, J.; Eigner, V.; Cuřínová, P.; Lhoták, P.: Chiral anion recognition by a ureido-thiacalix[4]arene ligand immobilized in the 1,3-alternate conformation, New J. Chem. 2015, 39, 1382-1389.